EXPEDITION NOTES
Citizen of the World is a very highly modified Twin Turbine Commander 900
Citizen of the World Aircraft Expedition Aims For the Poles
An aircraft titled Citizen of the World, began the call of adventure last November on a six-month 26,000 nautical mile flight that will, according to its chief pilot, connect the South Pole and the North Pole and everyone in between on a mission of global peace.
The aircraft is a very highly modified Twin Turbine Commander 900 with predator drone engines, custom 5-bladed nickel-tipped scimitar composite props, and a sophisticated avionics suite. The Citizen is intended to complete a Polar Circumnavigation this year.
Pilot Robert DeLaurentis, 54, with the help of 95 sponsors, hopes to generate greater awareness for aviation safety, technology and education. According to DeLaurentis, author of Zen Pilot: Flight of Passion and the Journey Within (Flying Thru Life Publications, 2016), new technology is an integral part of the expedition, creating first-time records and science experiments, such as:
* Citizen of the World is reportedly the first aircraft in history to be tracked globally with the new Aireon Space-Based ADS-B Flight Tracking using the Iridium NEXT Satellite Constellation of 66 satellites that have just come online.
* Citizen will also reportedly be the first aircraft in history to use biofuels to fly over the North and South Poles.
* The aircraft will be carrying two science and technology experiments onboard including a proof-of-concept Wafer Scale Spacecraft for NASA, as well as a plastics/microfibers collection experiment for Scripps Institution of Oceanography.
Celebrity ride-alongs are being sought to add to the project's global brand impact.

DeLaurentis, who resides in San Diego, reports in his latest blog on Dec.16, 2019, successfully completing the project's South Pole flight from Ushuaia, Argentina, in just under 18 hours. "It was a very challenging flight which included loss of navigation many times, extreme weather, the risk of fuel gelling, pilot fatigue and shortage of fuel." Learn more at:

A documentary is planned. See the teaser here:
Gregg Treinish wants your roadkill


Roadkill is Gold for Citizen-Scientists
Wherever explorers and adventurers travel these days, there are scientists and researchers back home desperate for hard-to-obtain environmental data that would otherwise be unavailable for conservation.
That's the premise behind the formation of Adventure Scientists (AS) in 2011, a nonprofit that equips partners with data collected from the outdoors that are crucial to addressing environmental and human health challenges. As such, it serves as an invaluable connection between the conservation and outdoor communities.
Founder Gregg Treinish of Bozeman, Montana, spoke to the public last month at the Fjallraven store in Boulder, Colorado, and explained that AS studies some of the world's most pressing issues where the collection of field data is crucial. Data collection can be expensive, time consuming, and physically demanding, which limits the role that science currently plays in the conservation process. Adventure Scientists tackles this problem by recruiting, training and managing individuals with strong outdoor skills - such as mountaineering, diving or whitewater kayaking - and empowering them to retrieve hard-to-obtain data from the far corners of the globe.
Take the crisis of microplastics, pollution you can't actually see without a microscope. Adventure Scientists has created one of the largest libraries of microplastic pollution in the world, according to Treinish, who conceived of the idea of conducting field research while hiking the Appalachian Trail. "I decided I wanted to dedicate my life to service and do it outdoors," he told the chapter. "I finally felt I was using my outdoor skill set to make a difference."
The problem of wildlife-vehicle collisions is global. AS asked cyclists, runners and long-distance walkers to make roadkill observations to aid transportation officials and protect the lives of humans and wildlife.
As part of its timber tracking initiative, the group also collects samples of bigleaf maples to build a genetic reference library to help confirm that the wood, popular in guitar making, is harvested legally. The tonewood is highly prized for its complex beautiful grain, to the extent that poachers are illegally cutting down bigleaf maples in the Pacific Northwest.

National Geographic named Treinish an Adventurer of the Year in 2008 when he and a friend completed a 7,800-mile trek along the spine of the Andes Mountain Range. Since then he has undertaken several epic long-distance treks, served as a field technician on diverse expeditions, and guided others to experience the wild firsthand.
The list of Adventure Scientists projects is extensive, all supported by hikers, bikers, skiers, and photographers from all walks of life who have chosen to make a difference by donating their time in the field.
Learn more at:

EXPEDITION FUNDING
Explorers Club Explores Relationship with Discovery Channel


Many Explorers Club members were caught unawares earlier this month when a confidential board document was leaked to the New York Post. According to the Jan. 2 story by investigative reporter Melissa Klein, The Discovery Channel is contemplating a multi-million dollar, multi-year relationship with the New York-based Club established in 1904.


The story reports Discovery would provide the Club with approximately $1 million a year for a fund that would support exploration. Some $2 million will be spent to renovate the headquarters building; and $300,000 per year would be paid to rename the Club's headquarters located in a 1910 Jacobean townhouse on the Upper East Side. The building is currently named for former Club member and renowned broadcaster Lowell Thomas (1892-1981).


News of the proposed deal, which is still under negotiation, was generally well received by the members we spoke to, with the exception of strong pushback over renaming the building.
In a Jan. 15 letter to members signed by president Richard Wiese, Development Committee Chair Richard Garriott, and Dr. Janet L. Walsh, Chair of Ethics and Governance, the Club emphasized that it has a team of experts working on this sponsorship.
"Our Club's most outstanding leaders including members of our Board, our Club's attorneys (including expert outside attorneys), media and television specialists, communication professionals and tax experts - all (are) working to make a potential Discovery sponsorship a beneficial relationship for each of our members. From our perspective, this team's attention to detail, dedication to the Club's mission, vision, and values, has been indispensable to Club stewardship," the letter states.
It continues, "At the root of any of our existing sponsorships is our ability to provide expedition funding for our members, advancement of our Club's mission and support for youth activities and grants. .... at no time would we ever compromise our mission, our vision, and the values we hold as a Club."
If it goes through, this would be a win for both Discovery - which seeks more awareness and exclusive content - and the Club which would receive welcome revenue - possibly upwards of $20 million this decade - to continue its support of exploration.


The media giant has a successful history supporting exploration-related nonprofits including an almost 20-year relationship with the Lowell Observatory in Flagstaff, Arizona, where Pluto was famously discovered. In that sponsorship deal, the media company provided major funding to build the 4.3-meter Discovery Channel Telescope (DCT) near Happy Jack, Arizona.


The DCT project got underway in 2003, when
Discovery
founder and former CEO John Hendricks proposed what would become a $16 million gift to Lowell Observatory from his foundation and from Discovery Communications. In return, Discovery received naming rights to the telescope and first right of refusal to use images from the telescope in their online and broadcast educational programming. As of last year it was the fifth largest telescope in the continental U.S. (
https://lowell.edu/research/research-facilities/4-3-meter-dct/
)
The media company's reported interest in The Explorers Club seems like a perfect match. But as they say, the devil is in the details.
Full disclosure: EN editor and publisher Jeff Blumenfeld is a member of The Explorers Club.
QUOTE OF THE MONTH

"When asked if I am pessimistic or optimistic about the future, my answer is always the same: If you look at the science about what is happening on earth and aren't pessimistic, you don't understand the data. But if you meet the people who are working to restore this earth and the lives of the poor, and you aren't optimistic, you haven't got a pulse."
- Paul Hawken (1946 -), American environmentalist, entrepreneur, author, and activist. Source: Commencement Address to the Class of 2009, University of Portland (Oregon).
MEDIA MATTERS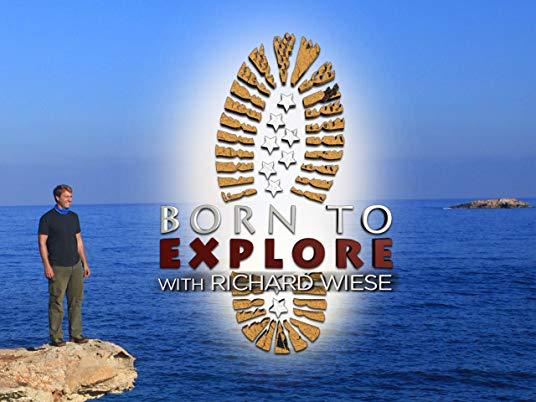 PBS Born to Explore Renewed
Born to Explore hosted by Richard Wiese, a half-hour television series produced by Explorer Films, LLC, in partnership with WGBH Boston, has been renewed for its eighth season. The show travels worldwide to celebrate world cultures, encounter rare and endangered wildlife and discover the wonders of the planet.
Wiese and co-executive producer Mercedes Velgot have produced over 200 shows and has received two Daytime Emmy Awards and 14 Emmy nominations, as well as 35 Telly Awards, 4 Parents' Choice Awards and a CINE Golden Eagle. Primary funding is provided by Aggressor Adventures.

Earlier this month, The Explorers Club announced that Wiese was re-elected president by its Board of Directors. This will be his third term in that leadership role.
Learn more about the show here:
Folds and grooves still visible in this 2,600-year-old brain. Photo: York Archaeological Trust


He Lost His Head; Researchers Find it 2,600 Years Later
Nearly 2,600 years ago, a man was beheaded near modern-day York, in northeast England - for what reasons, no one knows - and his head was quickly buried in the clay-rich mud. When researchers found his skull in 2008, they were startled to find that his brain tissue, which normally rots rapidly after death, had survived for millennia - even maintaining features such as folds and grooves, writes Rodrigo Pérez Ortega in Science Magazine (Jan. 7, 2020).
Now, researchers think they know why. Two structural proteins - which act as the "skeletons" of neurons and astrocytes - were more tightly packed in the ancient brain. In a year-long experiment, they found that these aggregated proteins were also more stable than those in modern-day brains. In fact, the ancient protein clumps may have helped preserve the structure of the soft tissue for ages, the researchers reported earlier this month in the Journal of the Royal Society Interface (
https://royalsocietypublishing.org
)
Read the story here:
Borge Ousland and Mike Horn. (Photo courtesy Borge Ousland)
Borge Ousland Says "Leave Your Fears Behind"

Borge Ousland is the first person to have completed an unsupported solo crossing of the Antarctic via the South Pole. Last month, Ousland, 57, and fellow explorer Mike Horn, 53, completed a grueling, 87-day expedition across the Arctic Ocean in the dark of the polar night, experiencing temperatures below minus 40 F.
In an interview with Jim Clash, contributor to Forbes.com (Jan. 8) Ousland says, "Mike and I wanted to do a classical, old-style polar expedition, crossing the North Pole by entering and exiting the ice by boat. The last time this was tried was when Fridtjof Nansen and Hjalmar Johansen left the polar ship Fram in 1895. Nansen and Johansen did not, however, reach the North Pole, so this challenge remained undone up to now. It was a battle from day one, but we made it unsupported.
"No one has completed a trek across the polar ocean in this style before, and no one has done an expedition up there that time of year. We probed unknown territory, so to speak."
When asked how he managed fear, Ousland replies, "You have to leave your fears behind on a trip like this. The focus is on survival. There is only room for that fear that keeps you safe and alive, and that helps you deal with immediate danger. We were beyond rescue for most of this trip, and wouldn't have made it if we were going to be afraid all the time."
Read the story here:
EXPEDITION MARKETING
Guide Service Celebrates 100th Polar Expedition
For years we've met amateur adventurers who say they've skied to the North or South Pole, while in reality what they accomplished was the so-called "Last Degree" about 60 nautical miles. We often congratulate them for the effort, while cautioning them to qualify their claims for the sake of their own credibility.
One company that has led exactly 100 Last Degree amateur expeditions to date is Chicago-area-based PolarExplorers. In a recent promotional email to
EN,
they proudly announce that despite strong winds, limited visibility and extremely cold temperatures, a five-person international team reached the South Pole on Jan. 12.
The team skied the Last Degree of latitude from 89° degrees S to 90 degrees S. This 60 nautical mile (111 km) journey was the second polar expedition for four of the five team members who have already skied the Last Degree to the North Pole.
Annie Aggens, director of PolarExplorers, points out that the South Pole is more predictable than skiing across the frozen sea that surrounds the North Pole. "There is no open water within hundreds and hundreds of miles of the South Pole. There is no ocean drift. Where you fall asleep is where you wake up. And there are no polar bears."
Another important difference is that while there is nothing at the North Pole, the South Pole is home to the permanent Amundsen Scott South Pole Station as well as a small seasonal basecamp for explorers who arrive by ski. PolarExplorers guide Keith Heger adds, "It's incredibly satisfying to see the station appear like a small dot on the horizon and to watch it get bigger knowing that it is your destination."
PolarExplorers organizes annual expeditions to the North Pole, South Pole, Greenland, Svalbard, Iceland and other destinations in the Arctic and Antarctic. Their 101st expedition will be to the North Pole in April. Their polar expeditions may be just 60 n.m., but it's still no walk in the park.
For more information:
www.polarexplorers.com
EXPEDITION INK
Labyrinth of Ice by Buddy Levy (St. Martin's Press, December 2019)
Reviewed by Robert F. Wells
A bit of context. As a teenager in 1861, Adolphus W. Greely enlisted in the 19th Massachusetts Volunteer Infantry. Soon, his mind was marinated with imagery of the horrific battle at Antietam. Then he was off to the Dakota Territory in the early 1870's as the country's top meteorologist - while the world became enveloped in the financial crash of 1873.
In 1879, a good friend, George DeLong, commander of the ship USS Jeannette, was lost without a trace while on an attempted voyage to the North Pole. In the face of this backdrop, Greely set off on a revolutionary scientific mission in 1881 to reach "Farthest North" - and establish a critical weather station as part of an "International Polar Year (IPY)" effort.

Early goings were routine. "Leads," or sea lanes of navigable water, brought the expedition through dreaded Melville Bay - known as a "mysterious region of terror." An outpost dubbed Fort Conger was set up as polar darkness settled in... and by mid-May of 1882, the goal of "Farthest North" was achieved. Along the way, impressive scientific data was recorded. Then all hell broke loose. It lasted for literally two more years.

Resupply missions never arrived - thanks in part to Secretary of War, Robert Todd Lincoln, who thought Arctic exploration was an utter waste of money. Greely's ship Proteus was "nipped" in ice, crushing its hull and sending it to the bottom. A "devil's symphony" of grinding ice from colossal paleocrystic floes relentlessly taunted the crew with combinations of moaning, thunder and shrieking. Temperatures often plummeted to minus 50 degrees F. Gales became norms.
Meanwhile, the crew abandoned Fort Conger with its shelter and supplies to seek help farther south at Cape Sabine. Suffering was severe. Frostbite was common. Food ran out. At one point, the crew sat down to a meal of "a stew composed of a pair of boot soles, a handful of reindeer moss, and a few rock lichens." All drifted in and out of deliriousness... as 19 died. And all hope nearly died with them.

Copious notes somehow survived - which became the chronicle narrated in this book. The acute misery of each day splayed out, page after page. The tale is brutal, as men slipped into unconsciousness and beyond to death. Then, miraculously, a rescue mission in July 1884 found seven survivors clinging onto wisps of life, and brought them home. Commander Greely survived.
And after a short burst of acidic press claiming rumors of cannibalism during the venture, Greely survived to become a richly-deserved hero. He carried on for decades - giving speeches (where he never accepted a penny, in deference to those who died at Cape Sabine) ... and he was one of the founders of both the National Geographic Society and the Explorers Club.

If you want excitement, as recreated three decades later by Sir Ernest Shackleton's venture in Antarctica, this is your book. Just make sure you've got your "woolies" on.

Robert F. Wells, a member of The Explorers Club since 1991, is a resident of South Londonderry, Vt., and a retired executive of the Young & Rubicam ad agency. Wells is the director of a steel band (www.blueflamessteelband.com) and in 1989, at the age of 45, traveled south by road bike from Canada to Long Island Sound in a single 350-mile, 19-hr., 28-min. push.

ON THE HORIZON
New York Wild Film Festival, Feb. 27-March 1, 2020, New York City
Through powerful, exhilarating films and conversations, the festival presents an opportunity to exchange ideas, celebrate the wild and effect change. New York Wild is a platform to create excitement, identify critical issues, build partnerships, and reach audiences that care about exploring, discovering and protecting our planet.
The kick-off reception at The Paley Center for Media is Feb. 27; film showings begin Feb. 28 at The Explorers Club, 46 E. 70th Street, New York, and continue through the afternoon of March 1. There's also a special showing of family-friendly films for ages 7-plus that Sunday afternoon.
For more information:
AAC Annual Benefit Weekend, March 13-15, 2020, Denver
The American Alpine Club will host the 2020 Annual Benefit Dinner (ABD) weekend March 13-15, 2020 in Denver. Since 1902, the Annual Benefit Dinner has served to convene the climbing community and garner support for the Club's work around the protection of wild places.
This year's ABD will be presented by Patagonia and will feature a keynote by Kris McDivitt Tompkins, Former CEO of Patagonia and current president of Tompkins Conservation.
Tompkins is a longstanding defender of wild places and a champion for the planet.
She will speak March 14, 2020, at the Denver Center for the Performing Arts (1101 13th St, Denver). She and her late husband Doug Tompkins turned millions of acres across Chile and Argentina into National Parks in an effort to restore and re-wild landscapes.
For more information:
www.americanalpineclub.org/annual-benefit-dinner
EXPEDITION CLASSIFIEDS
Space Available for John Huston's Ski Expedition to Svalbard

Colorado polar explorer John Huston is organizing a short expedition March 15-22, 2020, to Svalbard, Norway - a scenic mountainous archipelago located in the North Sea at 78 degrees N. His co-leader is long-time friend and expedition colleague Harald Kippenes, a Norwegian who owns and operates Yourway Adventures & Expeditions.
Harald and John have worked closely together since 2005 when they were teammates re-staging Roald Amundsen's race to the South Pole for a BBC/History Channel film production.
The route is stunning - beginning east of Longyearbaen, travel is via stunning glaciers, mountain passes, and mountain-lined valleys and ends back in town. There is a chance of northern lights occurring. Participants will sleep in tents and haul sleds with all the necessary gear and food.
Huston is a professional polar explorer and veteran of the first American unsupported expedition to the North Pole. He has completed major expeditions to the South Pole, on Greenland, and to Canada's fabled Ellesmere Island.